Asking customers directly is essential to the optimization of Customer Experience. The goal is to identify obstacles to eliminate and delights to reinforce or to communicate more efficiently. However, facing a huge quantity of data after receiving the answers to feedback forms, it is often difficult to determine true improvement levers.
Spontaneous customer feedbacks are valuable but difficult to analyze
Approaches based on closed questions are limited and not efficient. They suggest that you already know the customer's priorities and they don't enable you to detect new factors or unexpected weak signals. Moreover, series of closed questions can bore customers out, who will eventually answer in a superficial and biased manner.
On the contrary, open questions offer more valuable answers, but they generate data that are complicated to analyze. A simple counting of thematics and sorting based on their frequency aren't sufficient to select effectively the actions to undertake.
R3MSCORE analyzes the emotional intensity of customer feedbacks
The exclusive R3MSCORE algorithm attributes an emotional intensity score to each spontaneous word, revealing its strong emotional activation and its (positive or negative) valency.
For instance, if you ask someone to say three spontaneous words after they drank a glass of water and if they say "water", "glass" and "transparent", it means that the experience wasn't much engaging. Yet, if they use the words "refreshing", "good taste" and "holiday", it indicates a more distinctive experience with an intense emotional activation.
Our algorithm relies on several criteria such as the grammatical nature of the words, the enunciative stance, valency and consensual character.
The emotional analysis of language enables us to:
Calculate an emotional activation score (the R3MSCORE) as a new KPI for the Customer Experience,
Identify words that are more impactful in terms of emotional activation and deduce priority levers to improve Customer Experience.
We use this method consisting of only one spontaneous question: "Following this experience, what are the 3 words that come to mind?" Thus, a single question enables us to obtain a global score and an analysis of Customer Experience optimization levers.
The results of a R3MSCORE emotional analysis are very operational
Let's take an example: customers said 3 spontaneous words after they left a store. The store's R3MSCORE is 22, which is good, but below 30 – the threshold usually associated with very high performance.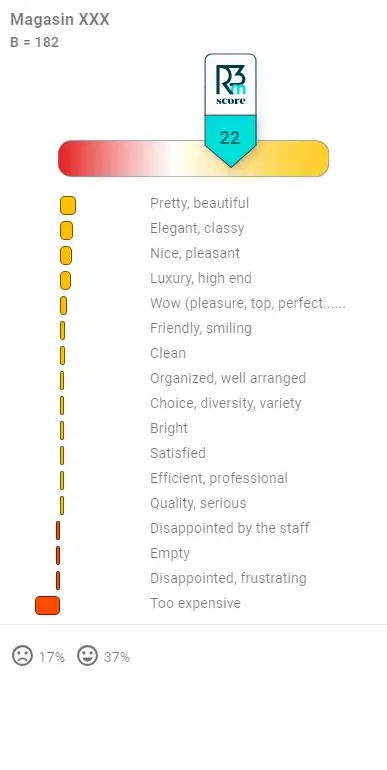 Groups of words are ordered in accordance with their contribution to the global emotional score: factors like "pretty, beautiful", "elegant, classy", "pleasant" and "luxury, high end" are the main positive driving forces for the Customer Experience in this store. On the contrary, we can detect priority axis for improvement regarding prices, offer range, display ("empty, frustrating") and the staff's behavior.
It is also possible to cross-reference these results based on different profile criteria (gender, age…) and to tweak the analysis based on population segments. In this example, it appears that interaction problems with staff have been mentioned by men mostly.
This method can be used on several stores in order to compare results. It can also be repeated in time to measure the effects of corrective actions.
A single open question analyzed by R3MSCORE offers an exhaustive diagnosis! Don't hesitate and try out this method to grasp a better understanding and management of the Customer Experience in your company.